Chroma's timeless interior style a nod to Port Moody's industrial heritage
[ad_1]

Buyers will enjoy stunning views of the North Shore Mountains, while those on the higher levels and facing north will appreciate peek-a-boo water views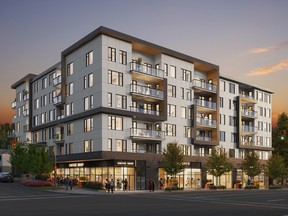 Reviews and recommendations are unbiased and products are independently selected. Postmedia may earn an affiliate commission from purchases made through links on this page.
Article content
Echoes from the past and cues from British Columbia's landscape inspired the architecture and interior design of Chroma, Forte Living's planned six-storey multi-use development on St. Johns Street in Port Moody.
Article content
The architecture of the building that incorporates brick and wood panelling reflects the clean lines of West Coast-style, says Chroma spokesperson Michelle Des Rosiers, senior vice president of project operations for Fifth Avenue Real Estate Marketing, who adds the modern but timeless style is enhanced with details such as black framed windows and patio rails while the interiors will be a nod to the industrial heritage of Port Moody.
Chroma comprises 63 homes for sale and seven condos for market rental, says Des Rosiers, adding small businesses are expected to take up the ground-level commercial space on the north and a portion of the east side of the building.
Designed to be a net zero building, Des Rosiers says every home will have a state-of-the-art heating and cooling system, Energy Star-certified appliances, LED lighting and low VOC (volatile organic compounds) paint.
Article content
Chroma has a variety of floor plans, including one, two and three-bedroom homes (some with flex space) ranging in size from 674 to 1,145 square feet. Buyers will enjoy stunning views of the North Shore Mountains, while those on the higher levels and facing north will appreciate peek-a-boo water views, adds Des Rosiers.

Each condo comes with a parking spot in the two-level parkade (some with roughed-in installation for an EV charging station). There is also a designated space for a Modo car-share vehicle. The building is conveniently located a short walk from the Moody Centre Station, a transit station for the SkyTrain, the West Coast Express and buses.
A courtyard on the second storey of the building is intended to be an outdoor backyard for residents, says Des Rosiers, noting the design includes several small zones to enable several people or small groups to enjoy the space at the same time, along with larger areas for bigger gatherings. Amenities in the courtyard, which connects to an indoor kitchen, include a barbecue, fire pit and a children's play area.
Article content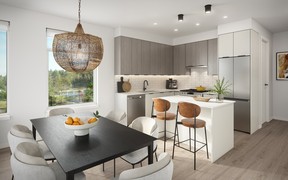 While transit connections, proximity to the Burrard Inlet, nearby Rocky Point Park and walking trails like the Shoreline Trail, plus the many cafes, craft breweries and a farmer's market, make it an attractive location, Des Rosiers notes many buyers are already residents in the city.
"We're seeing a lot of buyers make a lateral move. They're already living in a condo in the area and want something newer, and some parents are (financially) helping their children, who are first-time buyers, to remain in the neighbourhood," she says. "Port Moody grows on you; once you have lived here, it's hard to imagine leaving."
For the interiors, Collaborative Design Studio's owner and principal designer Donna Russell and lead interior designer Jordan McLeod, say the overall concept was inspired by the historic Old Mill Site in the city.
Article content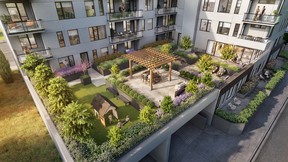 "The design of the units pulls in white textured brick paired with flat panel cabinetry in muted earth tones and contrasting rich black (accents) reminiscent of sun-bleached brick, forestry logs, and coal-stained machinery once found steps away in the nearby Burrard Inlet," says McLeod.
She adds that while Port Moody has always had a small-town ambience, the city has experienced change with new shops and the addition of the SkyTrain.
"Because of this, we wanted a design that would capture that small community charm but also appeal to a vast and changing market," says McLeod.
Buyers can choose from two colour schemes – Naturally Urban, a light scheme with earthy tones, and Modern Industrial, a dark scheme with a more contemporary vibe featuring high contrast finishes (as seen in the display suite at 2549 Clarke Street, Port Moody).
Article content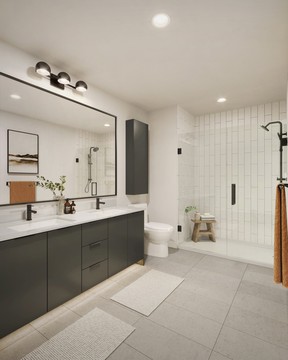 Although both schemes feature contrast in the finishes, they each present a design that will enable homebuyers to add their own style and flair to the space.
"The light scheme (Naturally Urban) is a tonal design with flat panel light greige and mid-toned wood cabinetry throughout. The main bathroom floor tile pulls in this light greige tone as well, while the (floor tiles) in the ensuite have a dark creamy grey finish. Overall this scheme is neutral, light and clean," says McLeod.
Russell and McLeod believe the dark scheme (Modern Industrial) appeals to an edgier buyer and showcases dramatic contrast with flat panel blonde wood and near-black cabinetry. The main bathroom floor is a dark charcoal, also in contrast to the blonde wood laminate floors.
Article content
In both schemes, the handmade-style backsplash tiles are inspired by sun-bleached bricks from the old mill site. "We made it modern, but bring in the heritage detail," says Russell.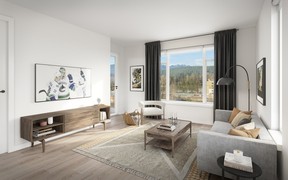 Although the size of kitchens across the various floorplans varies, quartz countertops, under-cabinet lighting and pull-out under-cabinet pantries are a feature in all kitchens, says McLeod, who adds the above-fridge cabinetry was extended in length to maximize storage space.
Major appliances are by Samsung and include a counter-depth refrigerator with an internal ice maker and a slide-in gas range complete with air fry technology to reduce the need for as many countertop appliances as possible, say Russell and McLeod.
A stand-out feature in the kitchen is the black-matte tall arched faucet with a magnetic pull-down sprayer (by Fluid) that complements the large single basin stainless steel sink.
Article content
Des Rosiers says construction by Kerkhoff Construction is expected to start this fall with completion scheduled for Fall 2024.
Project: Chroma
Project address: 3113 St. Johns Street, Port Moody
Developer: Forte Living
Architect: GBL Architects
Interior designer: Collaborative Design Studio
Project size: 70 residential units
Number of bedrooms: one- to three-bedroom units (some with flex space)
Price: starting from the high $600,000s
Sales centre: 2549 Clarke Street, Port Moody
Centre hours: 12 noon to 5p.m. daily (except Thursdays and Fridays)
Phone: 604-813-2547
Website: liveatchroma.com
A stunning slopeside home defies gravity in Deep Cove

A dated Savary Island vacation property becomes a dreamy-bright family retreat
[ad_2]

Source link